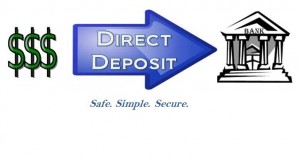 Employees may arrange for direct deposit of their pay into a specified bank account by accessing Your Employee Self-Service (YESS) and completing the Direct Deposit page.
Employees enrolled in Direct Deposit may view and print their deposit statements by accessing  YESS.
Enrolling or changing a Direct Deposit Account may result in receiving a live check for one or two pay periods. In order to determine if you will receive a live check or if your earnings are directly deposited into your account, view your Paycheck information in YESS.  Paychecks are available for pick-up in the Payroll Office.  
Direct Deposit remains in effect until terminated by the employee. To terminate direct deposit, access YESS and click on the delete button. Termination may take up to two pay cycles to process.
If an employee is enrolled in Direct Deposit at the point of separation from the College, all exit payments including lump sum sick and vacation payments will be deposited into the Direct Deposit account.
If you have questions regarding enrolling in direct deposit or changing accounts, please click here. YESS Instructions