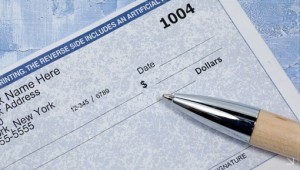 Listed below are the contents of the TCNJ paycheck. This information contains details of each field on the paycheck.
PAY PERIOD BEGIN DATE AND PAY PERIOD END DATE: Beginning and ending dates for the pay period. The College of New Jersey follows a biweekly pay schedule.  Pay schedules are posted on the Payroll Office website.
CHECK DATE:   Date check issued.
NAME:  New employees should verify that your name on your pay statement matches your legal name on your Social Security card to ensure correct reporting of wages to Social Security Administration.
PAY GRP:  Information used to classify employees for payroll purposes.
ADDRESS:  Employees should verify that the address listed here is their current address.
DEPT:  The department where you are employed.
LOC:  Your office location.
EMPL  ID:  Your six digit TCNJ employee identification number.  Use this number when asking Payroll questions.
NET PAY: Actual amount paid after taxes and deductions are withheld.
TAX DATA:  Federal and state withholding status, allowances, and additional amounts to be withheld each pay period.
EARNINGS:  Earnings paid by type, the amount and year-to-date amounts.
TAXES:  Federal and state tax amounts for the current pay period and year-to-date.  See Tax Rates for Calendar Year 2018 for current tax rates and abbreviations.
BEFORE TAX DEDUCTIONS:  Current and year-to-date deductions. These are deductions withheld from your gross pay before taxes are applied. See deduction abbreviations
AFTER TAX DEDUCTIONS:  Current and year-to-date deductions after taxes have been withheld. See deduction abbreviations.
LEAVE BALANCES:   Accrued leave balances for sick, vacation, energy, administrative leave and paid leave bank.  Note that employee groups have different leave benefits.
PAYCHECK SUMMARY:  Summary of current and year-to-date federal and state taxable wages, total taxes withheld, total deductions withheld and net pay.
NET PAY DISTRIBUTION:  Payment type- direct deposit or check, paycheck number, account type –checking or savings for direct deposit participants, and amount which is the net pay.